LNG for transport and logistics
The use of liquefied natural gas, LNG, biogas, and synthetic renewable gas are increasing significantly in commercial and professional transport. Rohe Solutions supplies the LNG and renewable liquefied gases needed for traffic. Rohe also implements commercial liquefied gas filling stations for its customers and partners for the needs of heavy traffic and other gas-powered vehicles with expertise and a selected service model.
Together with its other owner, Alexela, Rohe offers the Finnish market extensive expertise in different fuels and energy sources in road transport.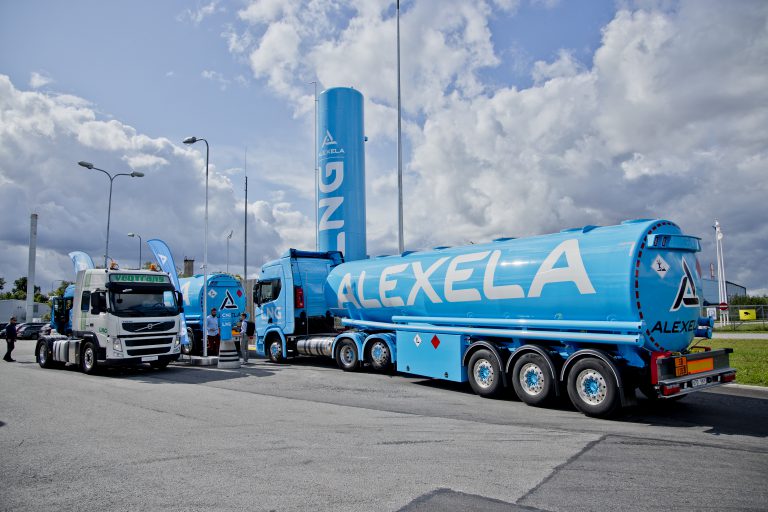 The spread of LNG in traffic in the 2020s
Transport accounts for one fifth of Finland's greenhouse gas emissions. Finland is committed to halving traffic emissions by 2030, and road traffic has the greatest potential for reducing greenhouse gases. The goal is that in 2030 there will be approximately 130,000 gas-powered passenger cars and approximately 6,200 gas-powered heavy equipment vehicles in traffic, and by 2025, 100 compressed gas filling stations and approximately 40 liquefied gas filling stations. The number of trucks using LNG in Europe is estimated to increase to more than 280,000 vehicles in 2030. Correspondingly, the number of liquid gas filling stations is predicted to increase from 500 to more than 2,000 stations.
Rohe implements commercial LNG and compressed gas filling stations for its customers and partners for the needs of heavy traffic with expertise and the service model of your choice. Rohe's own filling stations, which are in the planning stage, will primarily serve heavy traffic. The fueling stations to be implemented support the transition to renewable fuels and are also suitable for the distribution of liquid biogas (LBG) and synthetic renewable gas. The goal is for the first stations to be completed in 2023.